Welcome to The Dart Zone, the source of entertainment and enthusiasm!
Since 1990, Prime Time Toys, Ltd. has been producing family fun outdoor toys and games for endless enjoyment! The company is dedicated to innovating and developing safe and fun products to use with kids or adults and supplies everything you want for your dart blaster needs and accessories to serve the world's fun needs.
Dart Zone & ToyPro:
Dart Zone blasters are coming in HOT with ToyPro!
The best blasters start with the best darts!
And ToyPro is bringing the best to town with Dart Zone!
With a wide range of product lines that are fun for all ages, not to mention, SUPER safe, and at an affordable price!
Stop settling for less, make sure you have the best!
To have more enthusiasm and joyfulness with your friends and colleagues, Dart Zone is the most chosen one. Take a look at our amazing Dart Zone blasters:
DART ZONE® / BLITZFIRE® QUICKSHOT BLASTER 2 PACK:
The Dart Zone® Blitz Fire® is a double-pack of action. The set includes two blasters that each feature an auto-advance rotating cylinder to facilitate rapid blasting.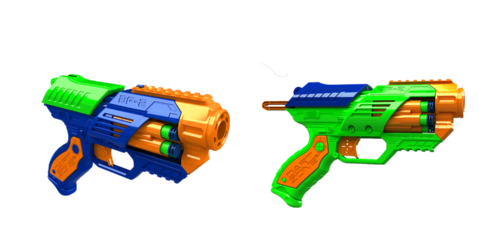 DART ZONE® MAX / NEXUS PRO ™ ULTIMATE DART BLASTER: 
This high-performance blaster is designed for advanced dart battles with hobby-grade FPS, distance, and accuracy. This advanced blaster is easy to assemble and includes everything you need to get the most out of your game.
DART ZONE® MAX / AEON PRO™ ULTIMATE DART BLASTER:
This high-performance blaster is all about flexibility. Designed for advanced dart battles, it delivers FPS, distance, and accuracy right out of the box. Compatible with both standard and half-length Pro Darts. Half-length darts and clip included.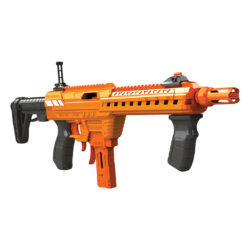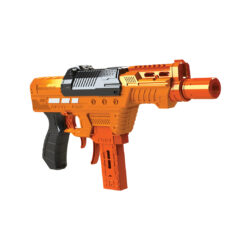 DART ZONE® / SPECTRUM™ MOTORIZED CLIP-FED BLASTER:
Introducing the NEW Spectrum Motorized Clip-fed Blaster. This modular tactical blaster features multiple configurations with a removable scope, adjustable tactical grip, and stock. The Spectrum is battery-powered and delivers semi-auto rapid-fire blasting performance.
DART ZONE® / V‐TWIN™ MOTORIZED GATLING BELT DART BLASTER:
V-Twin™ is battery-powered and delivers full-auto blasting performance. Hold down the "Rev-Trigger" to power up the flywheels and then pull back the primary trigger to send darts flying up to 80 feet through the rapid-fire rotating Gatling barrel.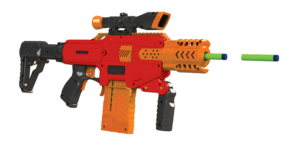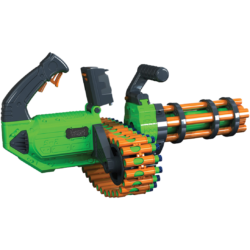 DART ZONE® / SAVAGE SPIN MOTORIZED TRIPLE DRUM DART BLASTER
Savage Spin™ is ready for dart battle. It's endless fun with the new motorized Triple Drum Blaster. Designed with auto-advanced triple rotating drums, this unique motorized dart blaster holds 45 darts and fires up to 80 feet.
DART ZONE® / MK-2.1PRO SERIES BLASTER:
An upgrade version of MK-2. With a blaster holster and clip holster, this high-performance blaster is easy to carry around. This compact hand-held pistol like appearance features in same consistency of high FPS, accuracy, and long shooting distance as other DZ Pro Series.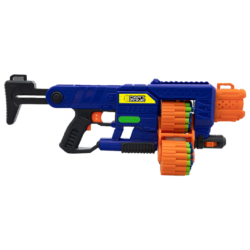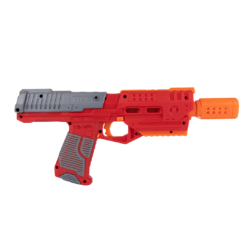 DART ZONE® / LEGENDFIRE POWERSHOT BLASTER:
The Dart Zone® Legend fire Powers hot Blaster aims for the top of its class. This Slam-fire Long Barrel Blaster is powered by an interchangeable automatic revolving drum. The Legend fire features 2 Ammo Cartridges—for quick reload in the heat of battle.
DART ZONE® / MAGNUM® SUPERDRUM BLASTER:
The all-new Magnum® Super drum Blaster brings dart blaster action to a new level of flexibility with two firing options: Slam-fire or Trigger-fire. Jump right into the action at maximum power with this blaster.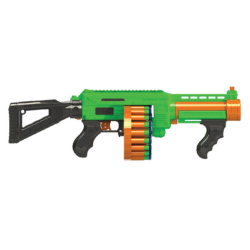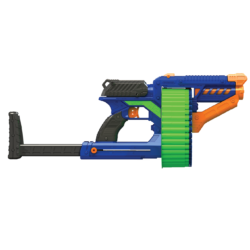 DART ZONE® / VILLAINATOR SUBMACHINE PUMP-ACTION SUPER DRUM DART BLASTER:
Give your adventurous child a toy they're sure to love with this brand new Villainator Submachine Dart Blaster with auto-advanced rotating drums. This unique pump-action blaster holds 40 darts and fires up to 80 feet.
DART ZONE® / STORM SQUAD QUICK SHOT BLASTER:
The Dart Zone® Storm Squad is compact, with loads of power. These quick-shot blasters offer efficiency in the heat of any dart battle. The auto-advance rotating cylinder holds 4 darts.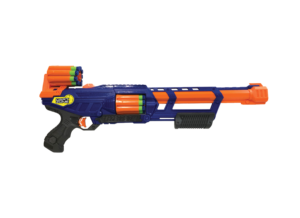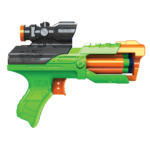 Now, all the power of the Ultimate Dart Blaster can be in your hands. More and more Dart Zone toys will be launched and expanded to have more special and joyful times with this cool brand.
Source: https://toypro.net/dart-zone/